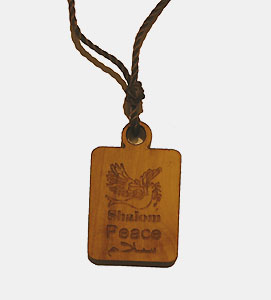 Actual Pendant Size 3/4" x 1" (1.9 x 2.54cm)
Cord length 25" (63.5 cm)







This olive wood pendant, from the tree
of peace, comes on a brown cotton cord. It features the dove of peace along with the word peace in English, Hebrew and Arabic, carved into the olive wood. Made by Palestinians hoping for peace.



$4.25



With apologies these necklaces
are presently out of stock